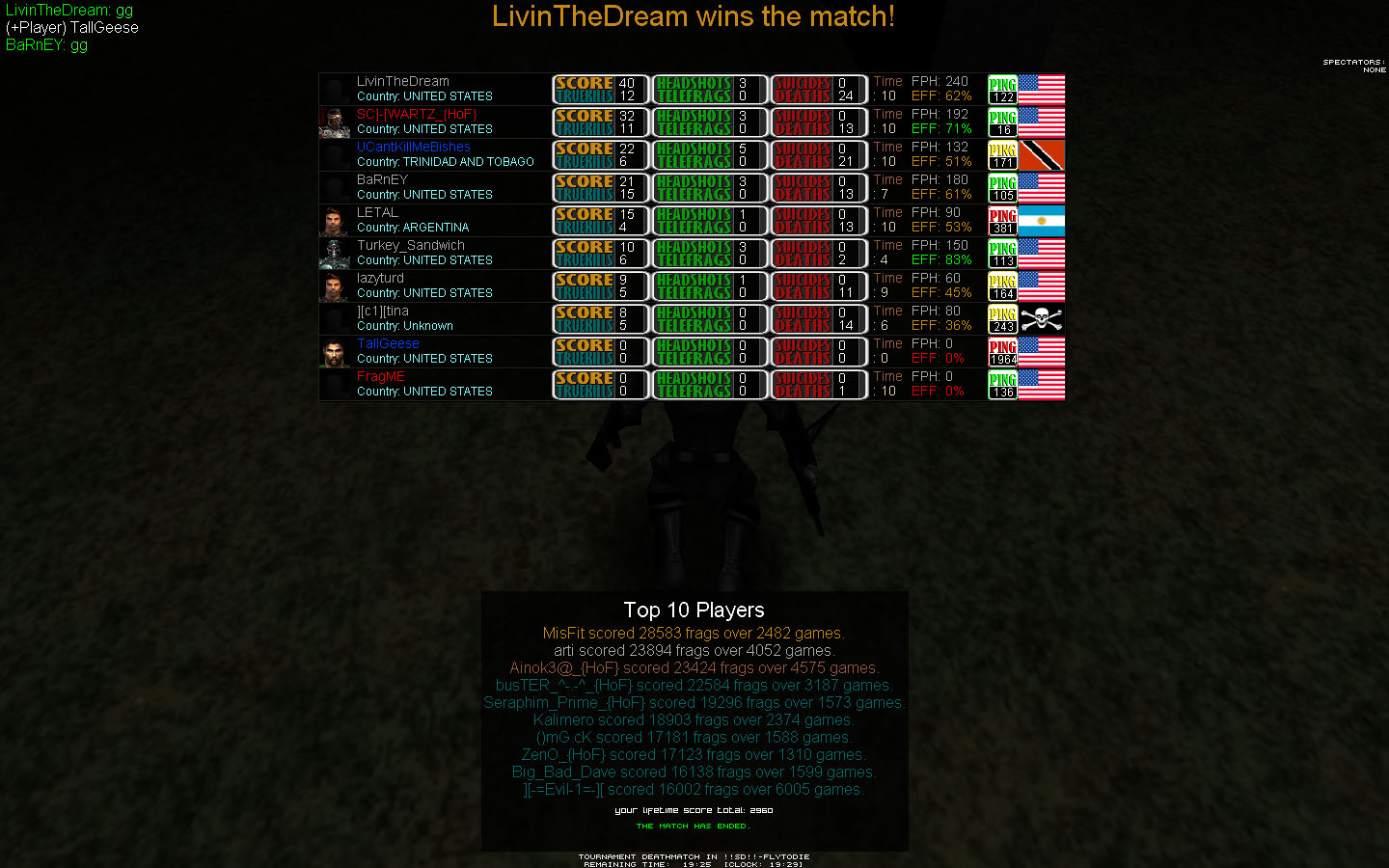 Thought I should finally start a development journal for my custom scoreboard which I began in 2013. UTES is short for "Unreal Tournament Enhanced Statistics".
I feel my ultimate goal was to have a unique set of statistics too be displayed for the client. My inspiration came from MH2Gold and BT++ as for basis for this project.
I also have to credit Higor for the re-write of the replicationinfo class. Credit goes too Nelsona who has helped with IpToCountry code queries. Also credit to Diego for always being there to help test new builds and with putting up with me. So far I have only been
focused on DM scoreboard although note that Nelsona has made used of UTES for MH on several of his projects. I will eventually make a release in future when I complete
the TDM and CTF boards. MH version of this board will be a standalone project. DOM and Assault will not be included in this project until the day I feel a need to add them.
Customized so far for the DeathMatch board
.
1)
Client avatar for whatever skin they are using is displayed on the board
. (Note that VAbeta can be used with UTES since it has its own player replicationinfo class)
2)
Client name is color coded for non-team/team skins
.
3)
IpToCountry not only has flags but also text for country codes. Because clearly who actually keeps track of what flag goes with what country name
.
4)
*NEW*
Scoring has been customized further while "SCORE" is your score+bonuses but TRUEKILLS is actual client kills which are added too your lifetime score in the stats database
.
5)
Included TELEFRAGS, HEADSHOTS and SUICIDES for extra info I felt I wanted clients to be aware of
.
6)
Has time played, frags per hour, player efficiency, and client ping too server
.
7)
At the bottom of the scoreboard is the "TOP 10 PLAYERS" stats which update at the end of every game
.
Future todo list
.
1)
Add code for cratered death to be registered as a suicide
.
2)
Include the client's lifetime score from the stats database next too his/her player name
.
3)
Include F2 stats information
.
If you have any questions, recommendations or find a bug in the development of this board please let me know here.
UTES is currently being tested on these two servers
.